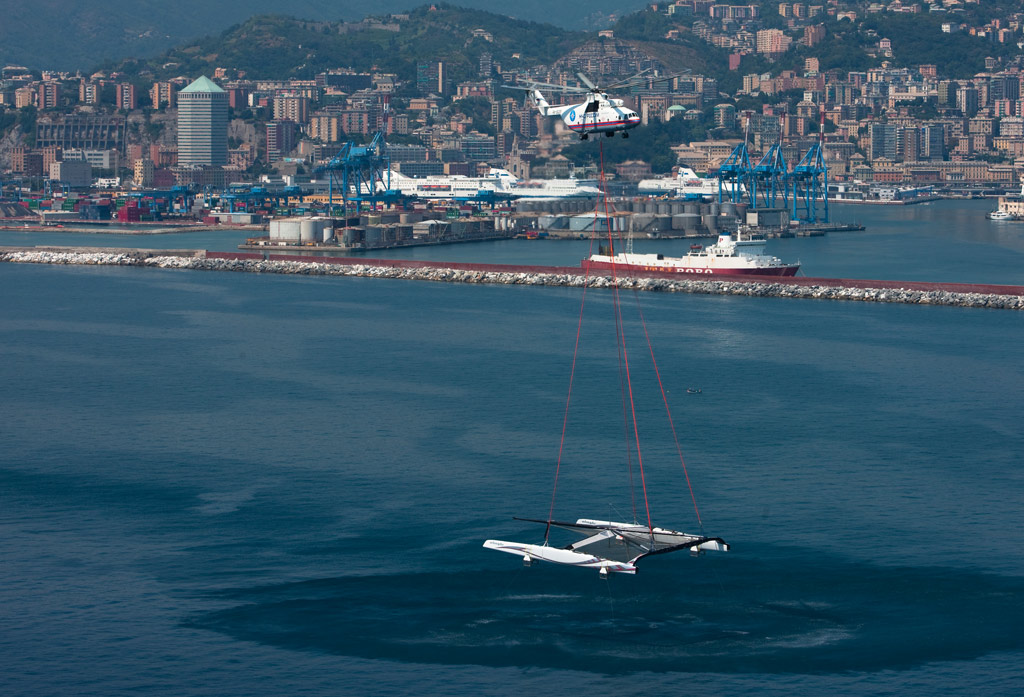 High seas entrapment
The American's secret weapon
BMW Oracle Racing beat Alinghi in court, but could Ellison do the same on the water? Galvanised by his court victories, he announced his choice of weapon for the duel, which his team had been developing in secret for several months near Seattle. He unveiled a giant carbon trimaran that was 27 metres long, 27 metres wide and with a 55-metre wing mast. These are the largest dimensions permitted in the Deed of Gift and this incredible multihull weighed just six tons (compared to the 25 ton traditional monohulls of previous Cups)! But Bertarelli wasn't defeated yet. In New York his lawyers fought every argument the Americans brought to court tooth and nail; rumour has it that the Americans wanted to race the duel as soon as possible convinced that they had a preparation advantage over the Swiss. Their PR story was that they were in a hurry to get the America's Cup back on track for all the other teams waiting in the wings…
The Swiss defence might have been on the back foot, but it was not starting from a blank sheet of paper. Bertarelli had spent many years racing high performance multihulls on Lake Geneva and in record time Alinghi managed to design and build a catamaran of mind-blowing proportions at the team base in Villeneuve. Alinghi 5 as the creation is known was launched on Lake Geneva by helicopter at the beginning of August 2009.
A multihull of such vast dimensions could not be transported to the Mediterranean overland in the usual way and so a Russian helicopter was brought in and shortly after the launch on Lake Geneva for the Swiss National Day, Alinghi 5 was airlifted over the Alps and lowered into the water in Genoa, Italy, where the first phase of training was to take place. A few weeks later, Alinghi 5 was loaded on to a cargo ship destination Ras Al Khaimah in the United Arab Emirates where the Defender proposed to host the 33rd America's Cup duel.
The venue choice was far from random; the light winds of the Arabian Gulf suited the lighter Swiss catamaran better than BMW Oracle Racing. But Ellison wasn't going to let Bertarelli get away with that. This duel was the American's brainchild and he wasn't prepared to let the opposition dictate terms. The American camp went quiet for four months and then struck, contesting the choice of venue before the Supreme Court who again granted the US team victory for political reasons (Dubai had recently refused to grant a visa to an Israeli female tennis player for the Open). This decision came as a shock to the Swiss team who was certain that Ras Al Khaimah was a legitimate choice. "We asked our lawyers several times and they assured us that we were in the right," said a source within the Alinghi camp who preferred to remain anonymous. Not so as it turned out, according to the US legal system.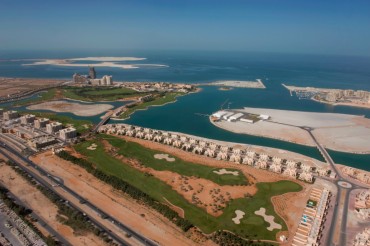 This put Alinghi in an awkward situation as venue preparations in Ras Al Khaimah were quite advanced by the time the US team won their case in court. To bring the America's Cup and its global audience to the diminutive emirate, Bertarelli needed to invest close to 150 million dollars in infrastructure over three months to be ready to host BMW Oracle Racing and the general public for the main event. When the court decision was published in December, the Defender of the America's Cup was once again forced to yield.