With the summer season on our doorstep, the crew of OCEAN71 Magazine came up with a very innovative way to observe the sea.
We chose one of Europe's most dangerous sailing zone to put our idea into practice: the Arcachon Bay. Even in ideal conditions, the constant shifting of the sandbanks prove to be treacherous. Storms and tidal currents prevent the landscape to stay still, and the consequences for boats and sailors can be dramatic when the weather conditions worsen.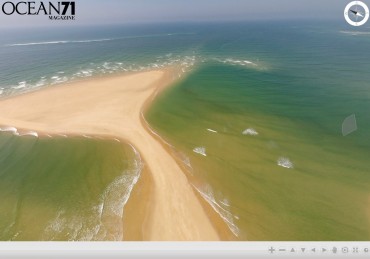 Taking advantage of a low tide with a coefficient of 93, we created panoramic pictures with a 360° view from above, enabling the viewer to precisely locate the dangerous sandbanks.
We took the experience a step further, with the possibility to have an almost complete immersion when the virtual visit is made from a smartphone or tablet.
Above is a video demonstrating the experience.
We wish you safe and enjoyable sailing trips.
OCEAN71 Magazine's crew