Current, water temperature and limited visibility are a few of the factors that discourage scuba divers to explore the Arcachon Bay. However, not far from the oyster beds, lives the largest population of seahorses in France ; Some measure up to 15 centimetres long.
The seahorse remains a mystery for most, as very few scientific studies have been conducted on this animal. Neither edible nor of economic value, nobody knows precisely the state of their population.
Nonetheless, this fish is biologically fascinating. Probably the most surprising features are that many are monogamous and that it is the male that carries the eggs up until hatching.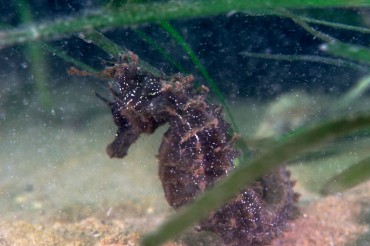 For some unknown reason, the two species of seahorses that inhabit the Arcachon Bay seem to recover and thrive, after being on the verge of extinction twenty years ago.
In Asia, they are still under threat mostly due to the fact that Chinese medicine grant the small fish with numerous therapeutic powers. A very profitable industry.
In order to relieve the pressure on the wild species, and to feed this business, seahorse farms have started to spawn since 2000.
For registered users, our complete FILE on the subject with exclusive photos of the seahorses in the Arcachon Bay