The OCEAN 71 Magazine team is anchored in Malta. The Mistral is still blowing. The French tuna purse seiners we are following for the past couple of days are still moored there, not very far from us, in Grand Harbour, Valetta. And yet, according to some journalists, they would all be at sea waiting for schools of bluefin tuna, "with their knives between their teeth…"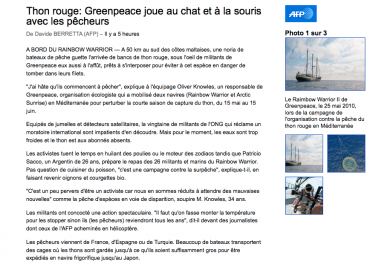 As we still cannot sail out, Internet allows us to follow what is being said about this controversial fish. I stumble on an interesting article from the very serious Agence France Presse, the French press agency, supplier of information for the media of the entire planet. The dispatch has been put on the wire five hours earlier.
The story begins with very spectacular, « ON BOARD THE RAINBOW WARRIOR —50 kilometers south of the Maltese coasts, a fleet of fishing vessels awaits the arrival of schools of bluefin tuna, under the eyes of Greenpeace activists also on alert… » I don't know if it's me who do not understand this journalist (Davide Berretta), but I can assert one thing, the Rainbow Warrior sits at anchor, in a bay north-east of Malta (thus very far from the 50 kilometers south of Malta) and has been for at least four days… and as for the « fleet of fishing vessels » mentioned in the articles, they have not moved from the Valetta Grand Harbor since last Thursday… A detail.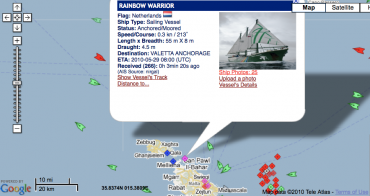 A little further in the article one can read « using binoculars and satellite detectors, about twenty activists of the NGO who demand an international moratorium are impatient to do battle. But for the time being the water is too cold and tuna is nowhere to be seen. » I'm not sure a pair of binoculars on a ship anchored far from the tuna seiners are very useful but again… it's a detail. It is rather the passage about the temperature of the water which is revealing. According to the water temperature map illustrating this reflection, you can observe that temperatures in Maltese waters range from 18 and 21° C. That is exactly what tuna needs to develop its genital organs and start its crossing of the Mediterranean…
This pelagic fish is far from being absent this year dear colleague. Last week, as we were sailing by the limits of the Libyan waters, we have come upon at least two large schools of bluefin tuna. The problem is more a question of weather conditions. The wind and swell are too strong for purse seiners to deploy their nets and fish. But don't get me wrong dear environmentally-concerned friends, I am not approving this type of tuna fishing (large-scale, industrial fishing) but my goal is to inform readers with accurate information and to try to give them the right elements.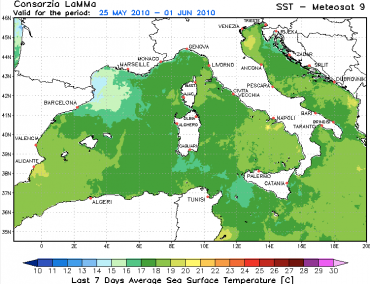 Let's not dwell at length on the fact that reading further, one learns that the journalists (including the AFP reporter) have been transported to the Rainbow Warrior by helicopter… A little action never hurts… but if they had rallied the ship by sea, they would have quickly understood that the sea is not navigable by any of us, tuna fishing vessels included.
There is bluefin tuna, as confirmed in the article by a Massimo Spagnolo « who heads an Italian institute close to the fishing industry… » I am also enclosing a very interesting document that we have been able to obtain thanks to one of our contacts in fishing circles. This document is from the Spanish ministry of fisheries. It lists the catches made up to May 23, 2010 in Spain. Please compare the « Almadrabas » (in red) and the « Flotta de cerco Mediterraneo » (purse seining). The Almadraba is a traditional fishing technique practiced along the coasts. Fishermen install a maze of nets in the water in which bluefin tuna will get trapped before the are captured manually. 542 111 kilos against zero, it is far from negligible…
And finally, this article is illustrated by a nice photo showing, not a fishing net as stated in the caption… but a beautiful —empty— bluefin tuna cage being towed by a tug outside the frame.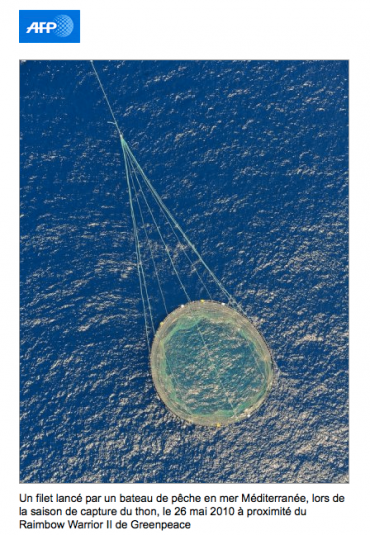 You will probably wonder why I have decided to write this personal commentary, which of course expresses my own views and not the views of OCEAN71 Magazine. I am criticizing our profession which I profoundly respect. The point is not to disparage the work of NGOs, or to side with or against law-abiding fishermen and fish farmers (who are currently under very close watch) and those working outside the law who appear to me as far more dangerous for the bluefin tuna… but our work is to inform. So, let's inform. Let's not exaggerate. Let's not underestimate situations. Let's not pretty things up. If we want people to believe what we say, let's tell them what seems to be closest to the truth. I know from experience that we live in times of fast paced information… But the sea is a different world. It is sometimes necessary to take time to understand it. Let us consider it as it is. That is what we are humbly trying to do.
P.S. To reassure fellow journalists, I know we are far from holding the absolute truth. We will make mistakes one day or another, that is for sure.