Wally, the new stars of the seas
A modern captain Nemo's revolution
«I've been sailing with my family since childhood, explains Luca Bassani, a devastating smile across his salt and pepper beard. When we would sail out on large yachts, it took about twenty crewmen and an hour and a half to hoist the sails… It was far too complex! » Half-child half-Captain Nemo, he starts imagining large, light filled yachts that would be easy to use by a limited number of persons and, first of all, would be very fast.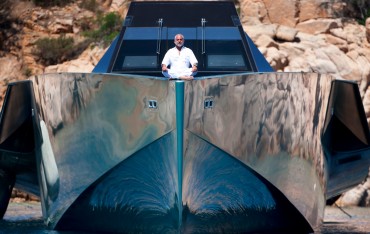 Thanks to the family fortune —acquired over several generations in the manufacturing of small electrical parts— he starts designing his first sail powered prototype which he names Wallygator. « I wanted to find a name that would please my son, » he laughs. When the first prototype left the yards in 1991, it's a revolution. The hull is dark green, entirely made of carbon, the sails can be trimmed and adjusted thanks to electric engines and hidden hydraulic jacks. The yacht comes as a surprise and also scares a lot of people in a world deeply anchored in its traditions, white hulls, many winches and lines running all over which nobody understand what they were for except sailors themselves. « A lot of people thought my yacht was very fragile. They thought the carbon mast would break that the hydraulic jacks would fail. What they did not realize at the time was that carbon is not only sturdier than any metal but also considerably lighter. Why do without it then? »
Using the most advanced materials and technologies, he succeeds in reducing the number of crew members needed to operate the boat (on a cruise, A Wally can be operated by three persons). On top of all that he unknowingly builds fearsome racers. « The size, and the enormous power of some parts of the yachts have pushed us to hide lines and pulleys which could possibly becomes traps for children on board, explains Bassani. It happened a little by chance but it is first out of our concern for safety that we « cleaned » the yacht by hiding everything under the deck. It was not only based on design. » With such sea giants, regatta promoters have created a new class just for them.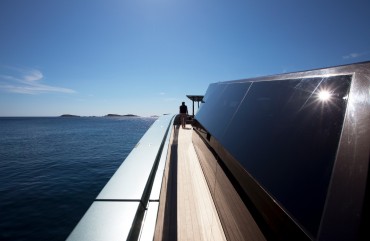 With his Wallygator, Luca Bassani has invented the more-than-perfect concept. His engineers are constantly looking for the best suited materials and the most up-to-date technologies available to improve performance, esthetics or capacity. « It's simple, I want the best, explains Bassani. Why shouldn't the fastest boat also be the most beautiful and the most comfortable? »
This is why the yacht soon becomes the favorite toy of wealthy industrialists. From Germany, Great Britain, France, Japan and even Kazakstan, discrete fortunes come and knock on Luca's door for him to build their dream yacht. « I really try to take them as far as possible from what they already know. And I can tell you that after twenty years, Wallygator is still one of the most modern yachts you can find. »
Why shouldn't the fastest boat also be the most beautiful and the most comfortable?
Success is such that Wally clients are no longer content with sail yachts. They dream to see the Italian shipyards bring the revolution they brought to sailing to motor yachting. Bassani then returns to the drawing board to reinvent everything. The result is just as incredible as with the sailing yachts. Shapes dictated by optimum hydrodynamics give the first Wally Power sold in 2001 the looks of a stealth ship. Again, carbon is everywhere. The cabin gets tinted windows. But what Bassani is most proud of are the engines: two authentic jet turbines.
« For me, who prefers sailing, I saw only one advantage in taking the helm of a motor boat: speed. » As a result, at a speed of over 100 km/h on flat water, it takes only forty-five minutes to rally Saint Tropez from Monaco, and a little over three hours to reach Sardinia! « It is as if you were driving a car at 300 km/h without having to fear speed radars, » he explains with mischevious eyes.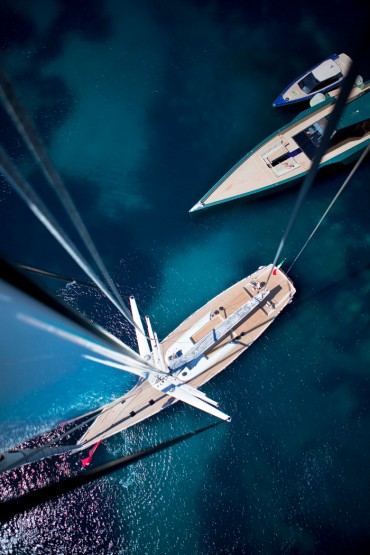 Luca Bassani never stops dreaming. One of the latest ideas to pop from his limitless imagination is the « small » 14-meter Wally Power. « Sail yachts like mine are not suited for marinas most of which where built in the 1970′s, a time when large yachts rarely exceeded 20 meters, explains Andrea Recordati, owner of Indio, the latest sail Wally. One had to find a way of filling the tanks while remaining outside harbors. Luca has developed a boat equipped with a separate 2000-liter tank and a pump. More than a simple tender allowing to disembark and go ashore, one fills the tank in the harbor and the boat then becomes a mobile gas station! A small wonder I cannot do without from the Mediterranean to the Carribeans. » A tender with a one million euro price tag… It's not that much when a Wally of about 30 meters will come with a tag a little under 10 million euros! But is it reasonable to put a price tag on the wildest dreams?
However, there is still an unknown factor in Luca Bassini's equation. There are no marinas capable of hosting his oversize children. But he has an idea about the problem. « Imagine a rock and soil artificial island at the entrance of the Gulf of Saint Tropez. It would protect the gulf from the swell and would allow very large sail and motor boats to have their own quiet anchorage. A modern harbor could look like something like that. Let's try and blend into nature instead of building pontoons and concrete breakwaters… » A futuristic concept, probably a little crazy but think about Hergé who passed for a lunatic when he imagined Tintin landing on the Moon fifteen years before Neil Armstrong…