Procida, pearl of the Med
Roadbook
In this chapter, we tell you the addresses we tested during our second journey on the island. Theses information should prevent you from being considered real tourists…
HOW TO GET THERE
By plane
Alitalia (www.alitalia.com): multiple flights daily from Paris to Naples from €280 return
Easyjet (www.easyjet.com): up to two flights per day from Paris to Naples from €74.98 return
Then, by ferry
Caremar (www.caremar.it): Departs from the port of Naples and runs several times a day to Procida. The trip is approx 30 minutes and costs around €7 each way.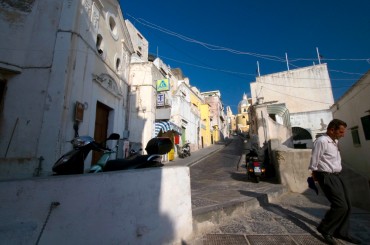 WHERE TO STAY
Graziella Travel
+39 081 896 95 94
www.isoladiprocida.it
Graziella Travel offers a portfolio of accommodation options: hotels, villas, and apartments to suit your budget. Christine and Domenico who run the agency speak English, Italian and German. They will be delighted to help you find your feet once you arrive on the island.
ACCOMMODATION
Hotels:
La Casa Sul Mare: Tucked away in La Corricella fishing village this charming boutique hotel dates back to the 18th century and is in an exceptional location. There are just 10 bedrooms. During peak season bed and breakfast costs €145 per night.
+39 081 896 87 99
www.lacasasulmare.it
Albergo La Vigna: Situated above Marina Grande, this old renovated fort has been transformed into a charming boutique hotel. It even has its own vineyard in the gardens and if you happen to visit in September you can join in with the grape picking! During peak season, rooms are priced from €130 a night.
+39 081 896 04 69
www.albergolavigna.it
Fishing houses and apartments:
Graziella Travel also offers a wide selection of old fishing cottages for rent. These characterful little houses are scattered all over the island and have been tastefully renovated. There are a few ideally located in La Corricella, a tiny fishing village. The cottages are available from €250 (for two people) to €1,600 (a villa for 10 people in peak season) per week.
+39 081 896 95 94
www.isoladiprocida.it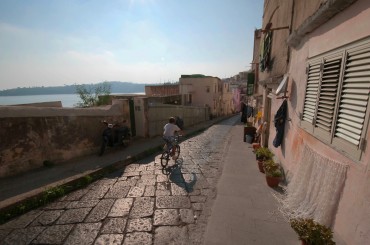 GOOD RESTAURANTS
La Medusa: Nestled in the main harbour, this restaurant is one of the oldest on the island. The owner will offer you the house speciality: pasta with sea urchins. Budget €30 a head, excluding wine.
+39 081 896 74 81
Via Roma, 116, Marina Grande
Le Maestrale: One of several family-run restaurants on the dock in La Corricella. You can feast on all manner of traditional pasta dishes, each with its own delicious sauce or you can request the house speciality which is fish of the day in batter. Budget €20 per head excluding wine.
+39 081 810 18 89
Via Marina Corricella, 29
MUST SEE!
The Maritime Museum: This small museum located in the Instituto Nautico will grant you some insight on the island's glorious maritime history. Old photography, ancient navigational instruments and charts used for teaching are all on display and most special of all are the old Italian sailing manuals. Entry is free and the opening hours are: Monday to Saturday from 0900-1300.
+39 081 896 70 04
Via P. Umberto, 40
The Abbey of the Archangel St. Michael is situated at the heart of Terra Murata, Procida's old fortified town. The church has a magnificent Lebanon cedar ceiling that dates back to the 17th century. It is also home to a silver and gold statue of the island's patron saint, St. Michael, which is paraded through the town on the 8th of May each year in celebration. It is interesting to know that the 11th century Cardinal of Naples who resided at the Abbey sat in judgment at the trial of Galileo . Entry is €2.
www.abbaziasanmichele.it
Lubrano Lavadera lemon farm: This is one of the five main lemon farms on the island and is without doubt one of the oldest. It has been in the same family for four generations. During your visit, you can stroll among the lemon trees and allow your senses to bathe in the colour and scent of the gargantuan fruit. If you are lucky enough to speak Italian, the head of the family will give you a brief history on this extraordinary place and the farm managers will gladly hand you a snifter of Limoncello when you leave. Visits are by appointment.
+39 081 810 13 48
Via Regina Elena, 20
www.limoncellodiprocida.it